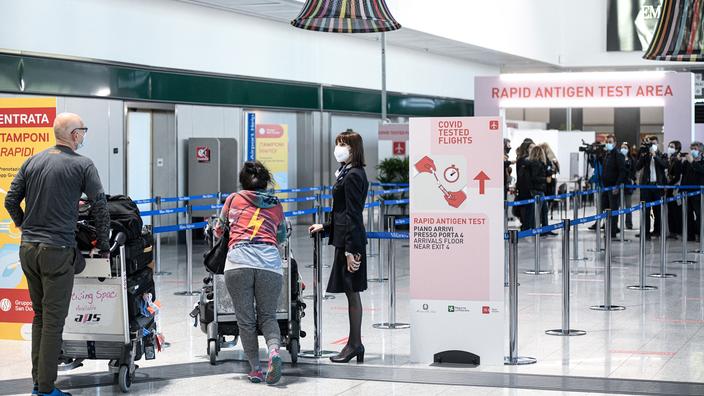 Question from Gregory
"I am going on a plane trip abroad but I have just tested positive for Covid-19.
Can I board or, failing that, get my ticket refunded? »
Dear Gregory,
You ask us about the case where a traveler tests positive just before taking a flight to go abroad. The situation in this case is clear: it is impossible for a positive passenger to legally board a commercial flight in France. For the second part of your question, on reimbursement, it all depends on your company.
Since the start of the pandemic, all airlines departing from France have relaxed their pricing conditions and allow travelers to cancel and postpone a flight free of charge, or to obtain a credit note.
"The commercial measures are still in place: postponement or cancellation free of charge and without proof until June 30, 2022 for tickets purchased before February 28, 2022",
confirms the Air France press service to
Figaro.
Similar measures are in place at EasyJet, Air Austral, Corsair, Emirates, Ryanair… So don't worry about postponing your ticket.
Read alsoTrain and plane tickets: favorable cancellation conditions, but until when?
More complicated for reimbursement
But for a refund, be careful, it will depend on the fare conditions of your ticket.
For certain categories of tickets with certain companies, in particular low-cost, clear and simple reimbursement is not guaranteed, even in the event of a positive test.
It is therefore essential to check the fare conditions of your ticket and to contact your carrier as soon as possible, refund requests can be significant, from a few weeks to a year.
In connection with your question, and while it came into force in France on Monday January 24, note that the vaccination pass is compulsory from today for intra-France flights (excluding DOM and Corsica) from 16 years old.
It must be checked at the time of boarding.
Some companies have set up systems for prior checks of Covid documents, such as the Ready to Fly service at Air France.
If you are boarding for a destination abroad, it is the health rules of the destination countries that count.
Some countries require negative tests, others vaccination, some both, others none at all.
It is therefore important to check the rules in force in each country by consulting our map or the France Diplomatie website.
ASK US YOUR QUESTIONS
Do you have a question about travel in this context of a global pandemic?
Do you need help organizing a future trip?
Are you running out of ideas for your next vacation?
The editorial staff of Le Figaro Voyage mobilizes with the most qualified experts to answer your questions.
You can send them to redactionvoyage@lefigaro.fr