<!–
window.IS_IE8 = true;

Politics and Society | Iceland Monitor | Wed 7 Jul 2021 | 12.43 GMT | Modified at 13.34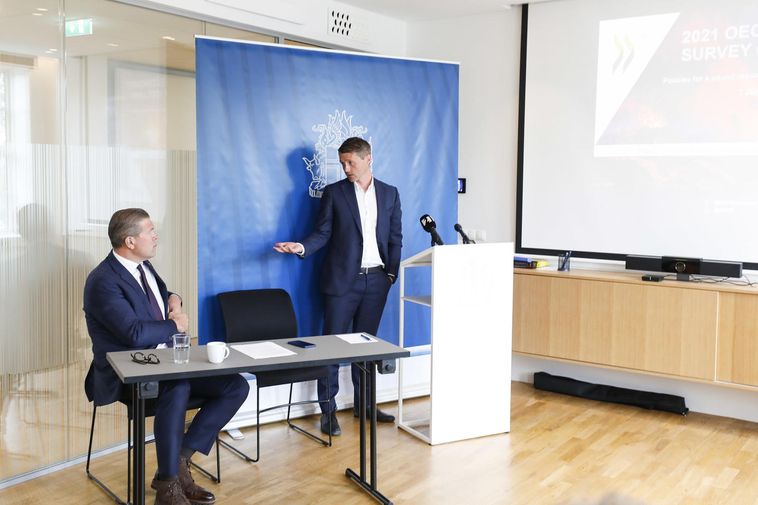 Bjarni Benediktsson and Alvaro S. Pereira at this morning's press conference. mbl.is/Eggert Jóhannesson
After suffering a major hit as a result of the COVID-19 pandemic, the Icelandic economy can expect a turnaround with considerable growth in exports, especially in the travel industry, mbl.is reports. This is among the conclusions of a new survey from OECD, published today.
The results were introduced by Alvaro S. Pereira, director of the country studies branch at the Economics Department of the OECD, and by Minister of Finance Bjarni Benediktsson at a press conference this morning.
The OECD believes that for the most part, the fight against the pandemic has gone well in Iceland, and that a turnaround is ahead in the economy. The economy proved resistant with strong private consumption and growth in export other than the tourism industry.
Monetary and economic policies supported the economy well, the survey states, and that support should be continued for some time, but the government should start consolidating as soon as conditions allow, with the aim of putting a stop to debt accumulation, as is the goal of the current fiscal policy.
To view the full report, see here.