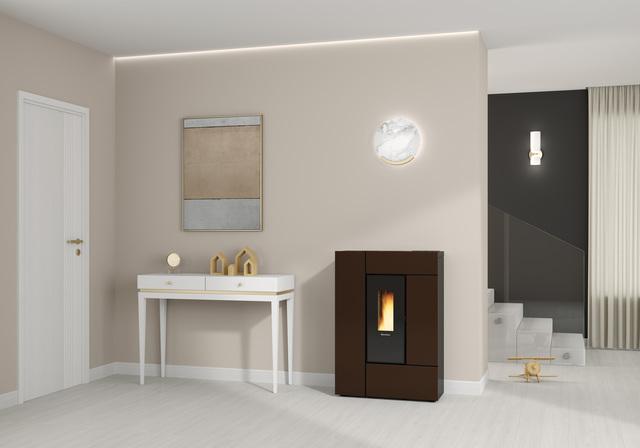 The La Nordica-Extraflame group constantly works to offer its customers an increasingly complete and cutting-edge range of solutions for heating the home with wood and pellets, with complete safety and respect for the environment among the top priorities.
This path has led to having a catalogue with more than 200 certified products that year after year is enriched with new offers, not only in terms of technological innovation but also of research and aesthetic taste.
With this philosophy, in 2021 we are presenting various new products including stoves, cookers, fireplaces and pellet thermo-products, and the restyling of existing models.
EVOLUTION LINE
Technology and #design for your home
GABRIELLA PLUS, 'slim' hermetic pellet stove, ducted – Evolution Line
8.0* kW rated output, 230* m³ max heated volume (*product in homologation, data subject to change)
Gabriella Plus is the new slim pellet stove (only 35 cm deep) designed to adapt to any room in your home. Thanks to its small size and the double possibility of smoke outlet (rear or top), the installation of this product lends itself to various solutions. In addition, the motor dedicated to ducting allows you to comfortably bring the heat to another room, reaching a distance of up to 8 meters and offering the possibility of thermostating the output, for maximum comfort in any environment, while the comfort function allows you to reduce to minimum the ventilation power to ensure silence without sacrificing performance.
Gabriella Plus is also completely hermetic and is equipped with a fire door with double ceramic glass, a guarantee of absolute safety. The covering is available in steel in white and bronze colours, or in natural stone.
SHARON PLUS, slim ducted hermetic pellet stove – Evolution Line
10.0*kW rated output, 285* m³ max heated volume (*product in homologation, data subject to change)
Sharon Plus is the latest innovation from La Nordica-Extraflame that joins and completes the Top range of Evolution Line pellet products.
The elegant and clean lines, the very low depth (only 29 cm) and the precious Black crystal or Natural stone coverings make this product unique and unmistakable, a true piece of furniture capable of transforming the room on its own. Its small footprint and the double choice for the smoke outlet also make it very versatile even during installation, especially in situations of limited space such as in an entry hall or corridor. The powerful motor dedicated to the ducting also allows the heat to be brought to another room up to 8 meters away, then giving the user the possibility to exclude the function, or add a thermostat, for maximum comfort.
The product is hermetic and is always tested in line to ensure its safety.
The real innovation of this product, however, is all in the hearth: through the large double door with double ceramic glass, the flame becomes the protagonist, even brighter thanks to the new Extra-Ker white refractory covering.
This product also comes, in every version, with the handy multifunctional handheld remote control that also acts as a room thermostat.