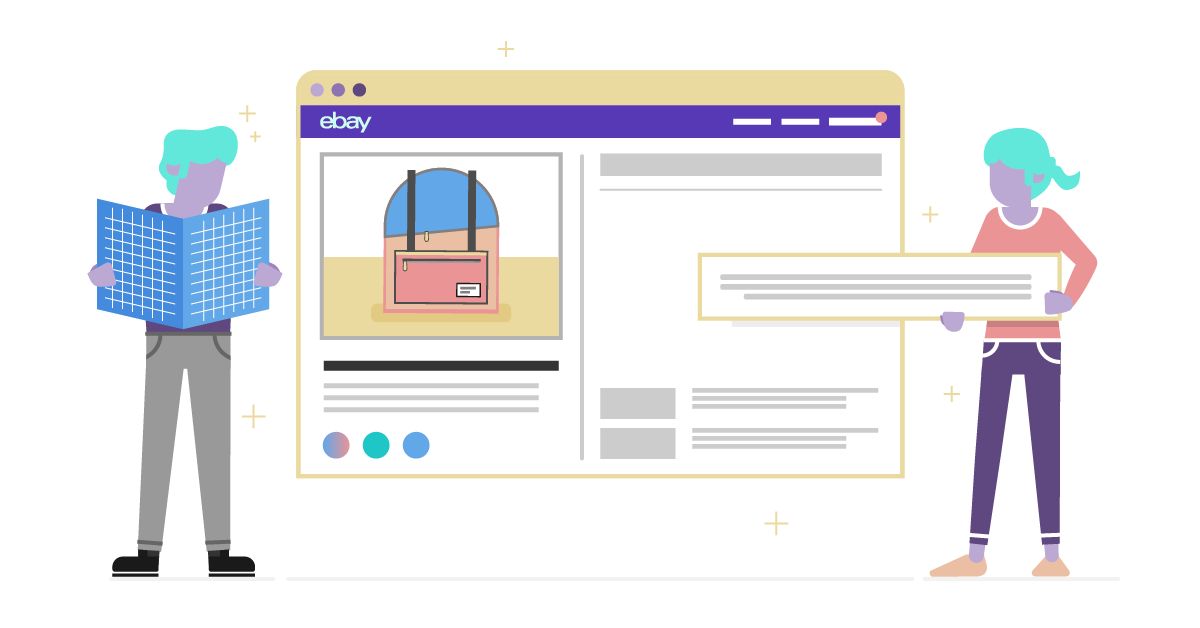 eBay is the most successful online auction marketplace platform. The latest earning figures of eBay prove that this platform has gained tremendous growth in recent years. Initially, eBay was started as an auction website where users buy and sell products through this marketplace platform.
But since it has taken growth and become a multi-billion-dollar eCommerce platform that holds millions of users and allows both consumer-to-consumer transactions and also business to consumer transactions. Let us have a deep look at eBay business models and let's find out how eBay works as this will help you to reap the rewards of high traffic volumes to your own marketplace platform.
eBay Stats and Facts – Funding and Major Milestones
eBay was founded on September 13, 1995, as 'Auction Web' by Pierre Omidyar and has its headquarters in San Jose, California, USA.
eBay got its name by the year 1997.
In 2004, eBay acquired Craigslist, Skype, and Paypal.
eBay's first mobile app and app store were launched in 2008.
The global shipping program was launched in 2012.
eBay introduced its fastest delivery option (delivery less than 3 days) in 2017.
Currently, eBay holds 185 million active users and serves around 180 countries.
Why eBay is successful
Although there are several auction marketplace platforms available, eBay still has its own place and standard among the audience. The reason is mainly because of how eBay works and how it handles its users.
Best user interface – eBay has the best user interface that facilitates users to conveniently access the portal and find the product easily with few clicks. eBay works well with its customers' buying behavior and has set the platform that completely meets users' demands.
Wide range of products – eBay provides an infinite count of products on its platform. Users can get any type of product they search for. Rare products are even available on this platform that makes users excited to shop on this platform. This is how eBay works in attracting audiences to its portal.
Free listings for fresher – users who join eBay initially will get free listings that will help them to post their product with no charge. After a certain period, they will be charged for posting ads. This supports freshers to start their business with eBay.
Better payment options – eBay provides multiple payment options to its users. Users can find their favorite payment gateway that they are comfortable with and can easily start their money transactions through those payment gateways.
Dedicated mobile apps – eBay has never missed gaining the attention of mobile users as they are a major category that is active all the time. eBay provides an exclusive mobile app for sellers and buyers.
eBay Business Model
There is significant importance in knowing how eBay works. It has a perfect business model that facilitates sellers and buyers to enjoy all benefits. Let us get into detail about the eBay business model.
Initially, sellers will get registered themselves with the eBay platform and will start posting their listing on the platform. They will be allowed to add product images, give descriptions to products, and many more.
Some listings are auction based where the product will be sold to the highest bidder. But some products are not auction-based as the product will be posted with the 'buy it now' option. Whoever pays can buy the product.
Through available payment gateways, buyers can pay for the product and can buy them. It applies to bidding also. The highest bidder will pay and get the product.
eBay also offers shopping tools like a shopping cart where buyers can temporarily store their favorite products and can buy them later. Buyers can keep track of their purchase history and can even save their searches. This is how eBay works and this has made the platform a well-known marketplace globally.
How eBay Makes Money – Revenue Model Explained
eBay is quite successful because of its revenue model. Every marketplace should have a perfect revenue model that will help in making good money and will help to survive in the market. Likewise, eBay business models work well with selective revenue models. Take a clear view of eBay's revenue models.
Listing fee – although eBay doesn't charge any listing fee with fresher, after few transactions, eBay starts charging fees from sellers. Sellers need to pay a fee for products they post on the platform. eBay also supports sellers to get their products listed on the main page and will help them to get more visitors to their product page that will help them in better conversion.
Transaction fee – on all successful transactions, sellers need to pay a transaction fee to eBay. Since there are millions of sellers, an infinite count of transactions occurs every day. So eBay gets better revenue by charging a transaction fee on all product selling that happens within the platform.
Insertion fee – a non-refundable insertion fee is charged on sellers when they open a bid for an item they have posted for sale. Each seller may post several products for bidding and for each product they need to pay the insertion fee to start the bid.
Advertisement – being a reputed online classified marketplace, eBay allows third-party advertisers to post their ads on the home page and earns money through advertisements. Last year eBay earned $1.2 billion through advertisement alone.
Technologies Required For a Website Like eBay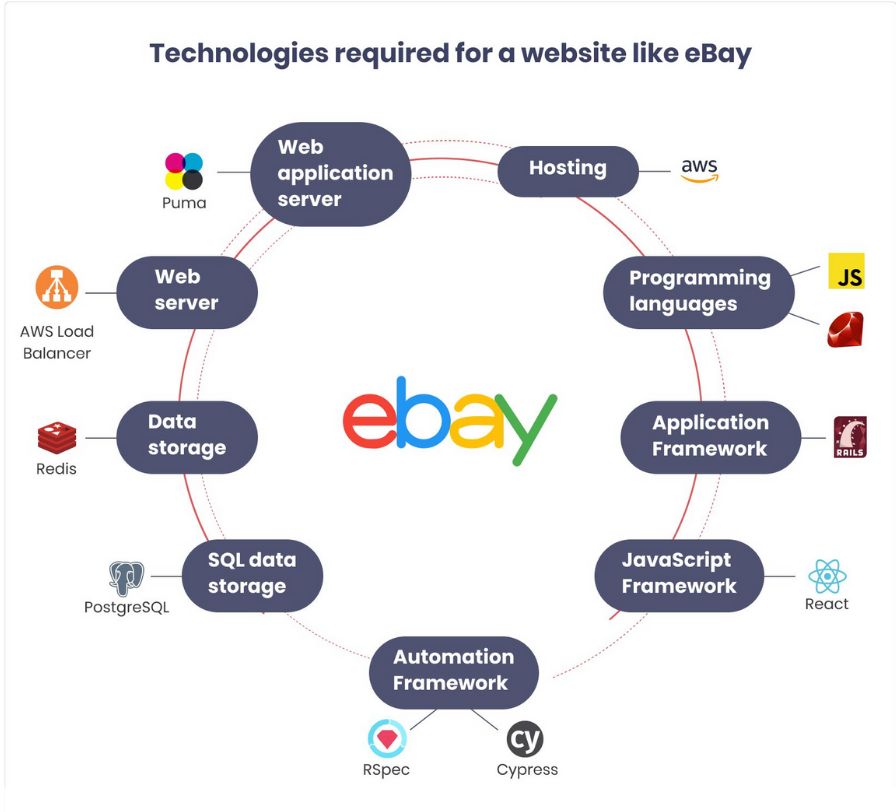 Programming Languages: Javascript, Ruby
Application Framework: Rails
Javascript Framework: React JS
Automation Framework: Cypress, RSpecSQL
Data Storage: Postgre
SQL Data Storage: Redis
Web Server: AWS Load Balancer
Web Application Server: Puma
Hosting: AWS
These are the revenue streams through which eBay works and earns well. Some sellers find this to be costly but the reputation eBay has will compensate for your spending with this platform as you will get more visitors and buyers to buy your products.
Join Hacker Noon
Create your free account to unlock your custom reading experience.