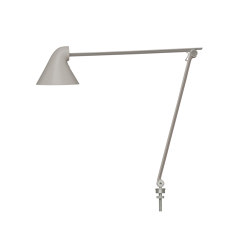 The fixture provides direct glare-free horizontal light while reflecting some of the light through the rear of the head, illuminating the top of the arm. The ergonomic design of the fixture head shapes the light and gives optimal light direction. A simple mechanical system provides great freedom of movement, so the light can always be set in the ideal position in the workspace. The shade is painted white on the inside, reflecting comfortable diffused light.
Available colors: Light Aluminium Grey, White, Black, Dark Aluminium Grey
Dimensions
Lenght: 480mm
Height: 480mm
Width: 220mm
Light source: On our website you can use our product configurator to specify the light source and lighting control.