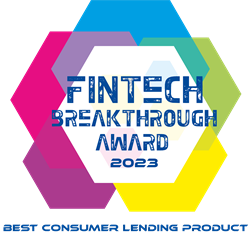 "We're proud to offer a seamless, end-to-end lending experience that is fast and easy, and helps more people enjoy the outdoors" – Jason Guss, CEO and Co-Founder of Octane.
LOS ANGELES (PRWEB) March 23, 2023
FinTech Breakthrough, an independent market intelligence organization that recognizes the top companies, technologies and products in the global FinTech market, today announced that Octane® (Octane Lending Inc.®), the fintech revolutionizing the buying experience for major recreational purchases, like powersports vehicles, RVs, and outdoor power equipment, has been selected as winner of the "Best Consumer Lending Product " award in the 7th annual FinTech Breakthrough Awards program, recognizing the breakthrough innovation of the Octane Prequal solution.
Octane's innovative products, including the soft pull ecommerce tool, Octane Prequal, provide speed and ease to customers looking to finance major recreational purchases in underserved industries where many companies have been slow to digitize. Octane Prequal brings lifestyle purchases in reach of more enthusiasts by providing real loan offers in seconds through Octane's in-house lender, Roadrunner Financial®.
Octane Prequal is part of Octane's seamless digital-to-retail experience. The tool sits directly on dealer and OEM websites so customers can prequalify for financing as they shop online – before ever going to the dealership. Once a customer applies, their information is sent directly to the dealer or routed to a nearby dealership that has their desired vehicle in stock. Customers can then submit their pre-purchase documentation in advance, saving time at the dealership. Since Octane Prequal uses a soft credit pull, a customer's credit is not impacted until a contract is generated. This way customers can gain an understanding of their buying power to find the best vehicle for them within their budget.
At the same time, dealers who use Octane's digital platform can quickly and easily fund vehicle loans, streamlining the buying process for customers and quickly reducing deal times. Because Octane Prequal is backed by Octane's inhouse lender, it is the only prequalification tool in the industry that provides 99% of applicants a real, instant financing decision, while also making it easier for dealers to finance qualified buyers.
"Borrowing money to purchase your dream vehicle can be overwhelming for the borrower and slow-going for the dealer, and securing a loan has typically involved lengthy research around interest rates, understanding the repayment terms, and a number of financing options – in addition to finding that perfect vehicle," said James Johnson, Managing Director, FinTech Breakthrough. "Octane addresses these challenges by meeting customers where they're at – online – with a breakthrough digital-to-retail buying experience that is unique in the industry. Octane's technology and lending solutions – like Octane Prequal – reduce this process from hours to minutes. We are thrilled to recognize the Octane team with this well-deserved 2023 FinTech Breakthrough Award."
The FinTech Breakthrough Awards is the premier awards program founded to recognize the FinTech innovators, leaders and visionaries from around the world in a range of categories, including Digital Banking, Personal Finance, Lending, Payments, Investments, RegTech, InsurTech and many more. The 2023 FinTech Breakthrough Award program attracted more than 4,000 nominations from across the globe.
"We're proud to offer a seamless, end-to-end lending experience that is fast and easy, and helps more people enjoy the outdoors',' said Jason Guss, CEO and Co-Founder of Octane. "55% of customers said that their Octane Prequal experience gave them confidence in their buying power, and 70% said they bought their dream vehicle sooner because of instant decisioning through Octane Prequal. We're excited to continue working with our dealer and OEM partners to connect even more people with their passions and further reduce friction in the buying experience."
In just over a year since its launch, over 500 dealerships have installed Octane Prequal on their websites, and applications generated through Octane Prequal close 1.4x more frequently than other prequalification tools.
####
About FinTech Breakthrough

Part of Tech Breakthrough, a leading market intelligence and recognition platform for technology innovation and leadership around the globe, the FinTech Breakthrough Awards program is devoted to honoring excellence in Financial Technologies and Services companies and products. The FinTech Breakthrough Awards provide public recognition for the achievements of FinTech companies and products in categories including Payments, Personal Finance, Wealth Management, Fraud Protection, Banking, Lending, RegTech, InsurTech and more. For more information visit FinTechBreakthrough.com.
About Octane

Octane® is revolutionizing recreational purchases by delivering a seamless, end-to-end digital buying experience. We connect people with their passions by combining cutting-edge technology and innovative risk strategies to make lifestyle purchases – like powersports vehicles and outdoor power equipment – fast, easy, and accessible.
Octane adds value throughout the customer journey: inspiring enthusiasts with our editorial brands, including Cycle World® and UTV Driver®, instantly prequalifying consumers for financing online, routing customers to dealerships for an easy closing, and supporting customers throughout their loan with superior loan servicing. Founded in 2014, we're a remote-first company with 550+ employees and over 30 OEM and 4,000 dealer partners. Visit octane.co.
Share article on social media or email: