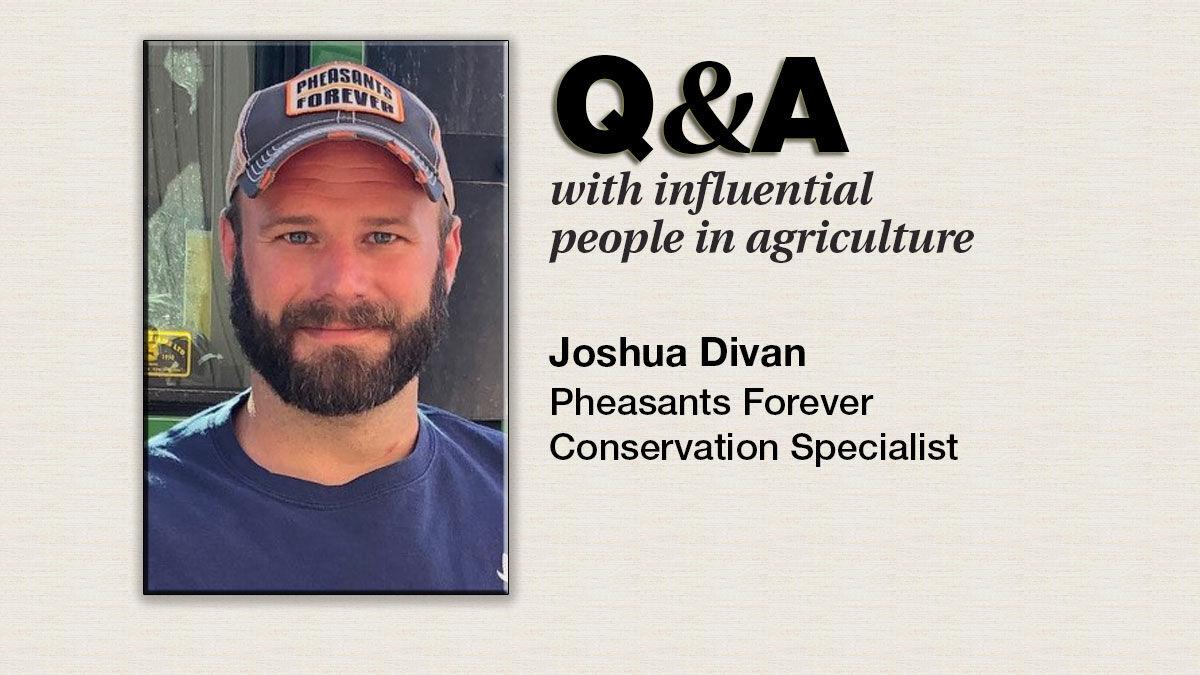 Joshua Divan is a precision agriculture and conservation specialist with Pheasants Forever in Iowa.
IFT: Tell us a little bit about Pheasants Forever as an organization.
DIVAN: Pheasants Forever is a non-profit conservation organization established in 1982, at a time when there were a number of people concerned about the loss of diversity on the landscape and about healthy and natural populations of wildlife. What makes it truly unique is the chapter model. There are over 750 Pheasants Forever and Quail Forever chapters.
IFT: Tell us more about the local approach. Does it vary from state to state?
DIVAN: The strategies and projects do vary across the country, but the work all revolves around habitat. More habitat equals more birds, more birds means more hunters, and more hunters creates more people advocating for conservation efforts.
Our chapter volunteers are our original habitat teams and still support habitat projects to this day. In about 2004, Pheasants Forever launched its farm bill biologist program (FBB) through a partnership with the Natural Resources Conservation Service to increase the availability of technical assistance for habitat and conservation to private landowners. The program started in South Dakota, and now there are similar programs in 26 states that are all made possible by the support from many different federal, state and local partners. …
There are a lot of programs out there, and it is easy to get confused and turned upside-down. Access to conservation experts improves the probability that conservation options are understood and projects are successful.
IFT: Could you guide us through the process?
DIVAN: Let's say someone walks into a USDA service center. They are in the prairie pothole region, an area once covered in wetlands that still pond water and experience crop damage in some years. They want to know their options. We'll do a site visit. Our staff will investigate what options are open to them. Instead of fighting the same area of the field every year, we can connect them to programs that target those problem spots and help set up and pay for a plan.
IFT: What is the reaction?
DIVAN: A lot of folks are surprised by the diversity of options that are available to them. There is a perception that a field should be either 100% row crop or 100% CRP but the truth is that the very worst part of their farm makes the best CRP land. There are also a bunch of efficiencies that happen when trimming off the most problematic and least productive parts of a field. Precision data is helpful and can show there is a better way to farm those parts of the farm that might be losing money in most years. We want to make conservation a positive experience. We're looking for win-win-win situations.
IFT: How are we doing when it comes to conservation? For example, how is the pheasant population these days?
DIVAN: Pheasant hunting used to be a big, big business in Iowa. We were a bird-hunting destination, and that brought in a lot of revenue to the state. Over the years we have lost hunters, which is a part of the reason we've seen a decrease in the pheasant harvest. But the most overwhelmingly limiting factor reducing pheasant numbers is the loss of wildlife habitat. In our hunting heyday our agricultural landscape looked different than it does today. There were smaller fields and more fence lines. There were more grasses and small grains.
CRP is a good friend to pheasant hunters. Weather is a factor, though less so than habitat. Overall, bird numbers have responded to efforts to increase habitat.
IFT: How are we doing on habitat?
DIVAN: In the last couple of years, we were beginning to see a decline in participation in conservation programs as many options under the farm bill had been limited and many financial incentives had been dramatically reduced. Thankfully, CRP has just received some updates that have increased the payment rate and the cost-share to increase the declining enrollment.
I think overall, we are also seeing that more people are understanding the environmental importance of habitat on the landscape. Perennial habitat increases water quality, improves soil health, mitigates climate change, and creates wildlife cover that is critically important to game and non-game species. We are hopeful that as a result, more people take the time to learn more about their conservation options.
#pu-email-form-ag-cropwatch-article { clear: both; background-color: #fff; color: #222; background-position: bottom; background-repeat: no-repeat; padding: 15px 20px; margin-bottom: 40px; border-top: 4px solid rgba(0,0,0,.8); border-bottom: 1px solid rgba(0,0,0,.2); } #pu-email-form-ag-cropwatch-article, #pu-email-form-ag-cropwatch-article p { font-family: -apple-system, BlinkMacSystemFont, "Segoe UI", Helvetica, Arial, sans-serif, "Apple Color Emoji", "Segoe UI Emoji", "Segoe UI Symbol"; } #pu-email-form-ag-cropwatch-article h1 { font-size: 24px; margin: 15px 0 5px 0; font-family: "serif-ds", Times, "Times New Roman", serif; } #pu-email-form-ag-cropwatch-article .lead { margin-bottom: 5px; } #pu-email-form-ag-cropwatch-article .email-desc { font-size: 16px; line-height: 20px; margin-bottom: 5px; opacity: 0.7; } #pu-email-form-ag-cropwatch-article form { padding: 10px 30px 5px 30px; } #pu-email-form-ag-cropwatch-article .disclaimer { opacity: 0.5; margin-bottom: 0; line-height: 100%; } #pu-email-form-ag-cropwatch-article .disclaimer a { color: #222; text-decoration: underline; } #pu-email-form-ag-cropwatch-article .email-hammer { border-bottom: 3px solid #222; opacity: .5; display: inline-block; padding: 0 10px 5px 10px; margin-bottom: -5px; font-size: 16px; } @media (max-width: 991px) { #pu-email-form-ag-cropwatch-article form { padding: 10px 0 5px 0; } }