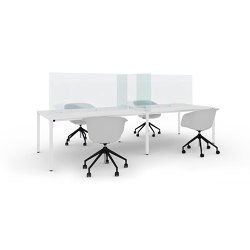 For better protection in the workplace
Ideal for workspaces in open-plan offices
Provides additional shielding and safety clearance when required – the transparent add-on plexiglass element for the se:wall. Robust and tilt resistant, it is integrated into the privacy screen element, keeps particles out and can be easily cleaned, if necessary. The add-on element blends perfectly into the surrounding area and can also be retrofitted.
Transparent protection for every situation
Special circumstances call for special measures: with the flexible hygiene protection, shielding is possible in any workplace and in any conference. The transparent plexiglass element is placed in stand supports which also serve as pen trays. No drilling or screwing is necessary, so that the hygiene protection element can be retrofitted on tables, cabinets and reception desks in a flexible manner. Due to the anti-slip surface it is always stable, even when it is cleaned.